A JOOMLA 3 TEMPLATE THAT IS EXTREMELY FAST, REALLY SIMPLE & MOBILE FRIENDLY
JSPEED is an extremely fast, simple and mobile friendly template for Joomla 3. Out of the box this template will bring you scores of 100% in Googles Pagespeed, GtMetrix, and Pingdoms tools.
Why have a fast website?
Because a faster website will make your users happy which will make Google and other search engines happy and thus reward you with more traffic.
More traffic means more money, more readers, followers or conversions.
This is the fastest Joomla template out there for a few reasons. There are other templates out there that say they are fast, but they aren't that fast.
This is faster and here's why...
Guess how many javascript files this template loads?
Zero.
Guess how many CSS files it loads?
Zero.
That's right it's extremely simple and optimized. Much of the core of Joomla doesn't actually need Javascript. And if you inline the CSS then you don't need a CSS file.
If you don't have those things then your site will load faster.
But it does come with a cost.
And the cost is the bells and whistles. This is a very simple website. It's not fancy.
Out of the box Joomla is not very SEO friendly. It's big and clunky, but it's also versatile and powerful which is good too. It depends on what you want. If you want a lot of versatility and to use a lot of components then you will slow your site down.
So...
Who is this template for?
It's for the person who is a minimalist and really wants something fast and simple. There are no bells and whistles here. Just an extremely fast and lightweight template that's ready for your awesome content.
This is based on the same template that I made for my own site.
So I built it with myself in mind and the things that I wanted. I wanted speed and simplicity. I wasn't happy with what I found so I created my own.
THIS SIMPLE JOOMLA TEMPLATE SCORES 100% ON PAGESPEED 
*Note: If you test this page then it will be slightly slower because of the images, however if you test the blog or a page without images you will get scores of 100%.
Test it out for yourself on GTmetrix. Or see the next test below.
FASTER THAN 95% OF SITES ACCORDING TO PINGDOM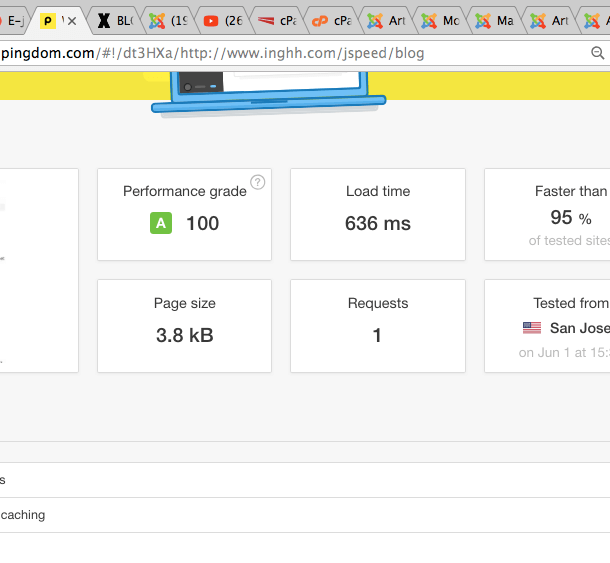 It really depends on what you want. If you want more features then this template is definitely not for you. This is a minimalist template. There isn't much CSS, javascript or HTML.
And...
There is only one column. There aren't 2 or 3 columns. There is just one column. That means there isn't any sidebar unless you are going to add it.
So is that for you?
Aside from speed there are some advantages to just having one column.
All eyes are on your content.
It's mobile friendly. 
Research related to sidebars
And here is one other thought... Does Google search use a sidebar?
A fast website will give you an advantage.
This Joomla template is:
SEO optimized

Mobile friendly

Super fast

Extremely simple

One of a kind
Payment is through Paypal and it's $29. After I receive your payment I will send the template to you within 24 hours (often sooner).
It's extremely fast, simple and mobile friendly.